Tools
Using the correct tools during the eyelash extension treatment can greatly help you in achieving the high standards your customers will expect. Lashxpert tools have been specifically designed for the eyelash extension treatment and are of the highest quality.
Tweezers
A good set of tweezers are a vital element of carrying out a high standard of eyelash extension treatment. The normal type of tweezers available in supermarkets and chemists will not do a good job and may even crimp the & damage the extension beyond use. You will inevitably drop or lose your tweezers so it makes sense to have a spare set readily available.
STRAIGHT TWEEZERS
Straight stainless steel anti static fine point tweezers used to either pick up and place the extension or separating.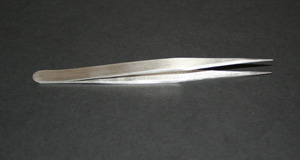 CURVED TWEEZERS
Curved stainless steel anti static fine point tweezers used to isolate the natural lash.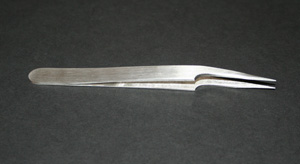 BEAK NOSE TWEEZERS
Beak nose tweezers have a more pronounced curve to allow easier access when isolating. Used in volume lashes also. Image is for illustration only and may differ from the type available.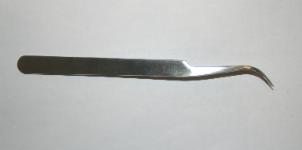 X TYPE TWEEZERS
X type stainless steel anti static fine point tweezers work the opposite way from normal tweezers and are used to pick up and place the lash extension. This type of tweezer will automatically hold the extension until you press to release.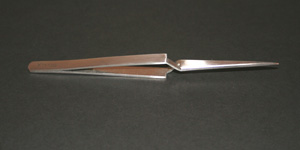 Other Tools
LASH MAT
Used to lay out lashes prior to treatment. Washable.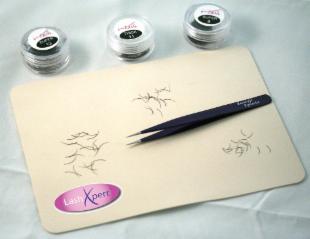 MAGIC LASH STAND
A static enhanced plastic lash stand makes lashes stand up for easier selection.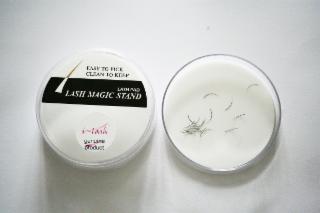 HAND AIR BLOWER
Used to gently blow air over the extension bond speeding up drying time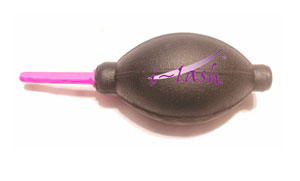 COOL STONE
Used to place adhesive onto and helps to keep adhesive at the correct temperature. Do not put tape on the cool stone for obvious reasons! The stone can easily be cleaned when required with acetone.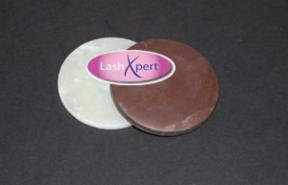 EYELASH COMB BRUSHES
We strongly advise that to minimise the risks of cross contamination a new comb brush is used for every treatment and given to the client at the end of the procedure. Sold in packs of 20 the Lashxpert comb brush cost less than 50p each!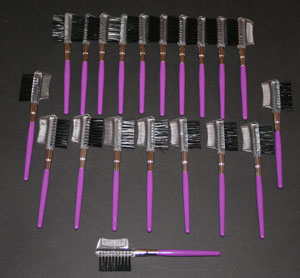 MICROBRUSH TUBE
Superfine microbrushes are an invaluable tool when carrying out an eyelash extension procedure. There size makes them far superior to using cotton buds and there construction means they dont leave loose fibres behind! They can be used to apply cleanser, protein remover, coatings and are especially useful when carrying out adjustments and infills. Microbrushes are sold in tubes of 100.