NEW ProGold Salon Kit
The latest Lashxpert ProGold Salon kit is suitable for mobile therapists who are seeking a larger kit and for all sizes of salons. If you have received training elsewhere but are looking for a professional kit this is the one for you. As with all Lashxpert kits every single item can be replenished individually and additional lash sizes and colours can easily be added as and when required.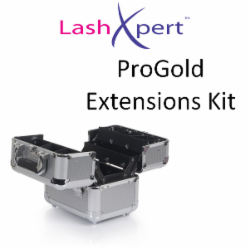 Please note that Lashxpert kits are sold on the basis that purchasers have received or will be receiving approved training by a recognised training provider. Number of individual lash pots and trays is fixed but sizes may vary.