----------------------------------------
ADHESIVES & DEBONDER
Eyelash extension adhesive comes in many forms, from the grossly overpriced to the cheap and nasty! A high price means very little when it comes to eyelash extension adhesives. Since we buy directly from manufacturers we are well aware that you can pay 2 or 3 times as much for exactly the same formula! Lashxpert and ilash adhesives are all manufactured in the EU & to international ISO standards. This means that the methods of manufacture and the ingredients do not change from one production batch to the next and the adhesives are bottled and packaged in a certified environment. Please note that there is NO such thing as CE approval for any eyelash extension adhesive as it is a cosmetic product. Any company claiming this is incorrect.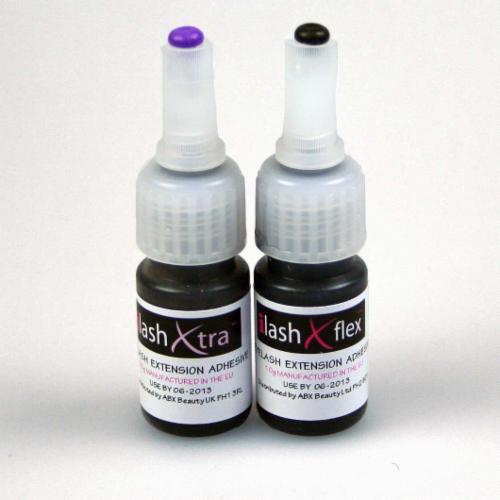 EYELASH EXTENSION ADHESIVES
Manufactured in the EU to ISO standards.
Extensively researched, developed and tested.
These are adhesives that work with all brands of eyelash extensions.
Optimum colour, consistency and workability, combined with a fast drying speed.
The latest ilash adhesives offer eyelash extension technicians a choice of 2 levels both of which provide flexibility, durability and up to 9 months shelf life.
ILASH XTRA is our fume free black eyelash extension adhesive. Great for sensitive skin, it's unique flexible formula offers a fast flash time with great workability. Manufactured in the EU, it is compatible with all brands of eyelash extensions.
ILASH XFLEX+ is our newest formulation of our extremely popular ilashXflex but with an even stronger bond which remains flexible and is more technician friendly. This product should only be used by experienced technicians who require a very short time to accurately position the extension. The bond is like no other and gives amazing flexibility. Please note this adhesive carry's a slight fume.